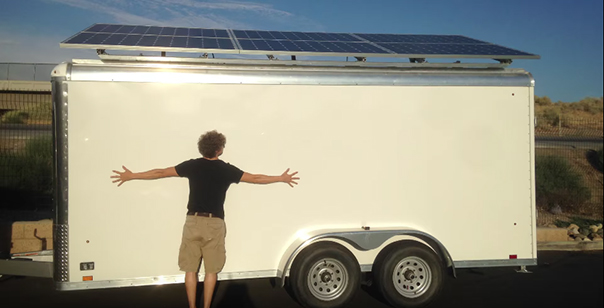 When Merritt Graves and Skylar Funk met each other in the Environmental Analysis Program at Pomona College, they had no idea that they would be following a career path in music. Now years later, their environmental education background has melded with their love of performing music, resulting in the band Trapdoor Social which is a champion of sustainability.
In addition to Graves and Funk, the band also includes Patrick Griffen, Ben Ebert, and Louie Gonzalez, who have all been working hard to create a band that can be an outlet for their musical passions, but also act as a platform from which to send a message about climate change, as well as well as other causes.
Their music has been the soundtrack for various social campaigns they've done, including raising $35k of solar roofing, which they donated to Los Angeles based Homeboy Industries. Homeboy Industries provides hope, training, and support to formerly gang-involved and previously incarcerated men and women allowing them to redirect their lives and become contributing members of our community. Another Trapdoor Social effort raised $7k for an underfunded band program at Mesa Ridge High School, via their song "Fine On My Own," which they recorded with the school's marching band.
True to their environmental lifework, Trapdoor Social's album release party this Friday will be solar powered using their own solar trailer which they tow to shows. The show will also feature Los Angeles based bands
Dream Vacation
and
222
. Come out and support music with a mission.
Trapdoor Social Album Release Party
Date: July 22, 2016
Place: Club Fais Do-Do
Address:  5257 W. Adams Blvd., Los Angeles, CA 90016
Time: 7PM
All Ages